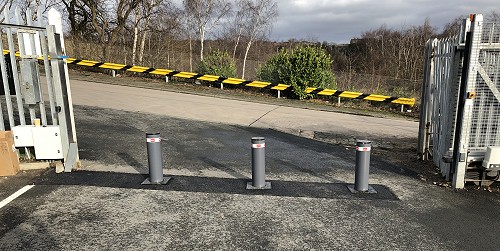 Top-Quality Automated Bollard Installations
Rawson Security excels in providing comprehensive automated bollard installations for businesses and homes in and around Leeds. No project is too complex or too trivial for our skilled professionals. Our services cover installation of bollards in a variety of spaces including commercial car parks, industrial warehouses, delivery areas, private roads, and even multi-storey car parks with the provision for edge protection. Our commitment to high standard work, punctual services, and fostering enduring relationships with clients sets us apart.
Why Choose Rawson Security?
Trusted Provider of Electric Bollard Installations
We are a reliable name in the realm of electric bollard installations, serving commercial, industrial, and residential clients across Yorkshire. Our wealth of industry experience has helped us establish a reputation for delivering tailor-made, superior quality solutions that meet each client's unique needs. Our seasoned technicians, equipped with the latest technology, ensure the provision of efficient and cost-effective bollard systems that offer robust protection against unauthorised entry.
Comprehensive Security Solutions
At Rawson Security, we recognise the critical importance of security for businesses and homeowners. Thus, we offer a variety of electric bollard solutions to match your specific requirements. Whether you need a simple standalone bollard or a sophisticated, integrated system, our team has the skillset to provide a solution that aligns with your exact needs. Our electric bollards are user-friendly, highly resilient, and need minimal maintenance, making them an economical choice for enduring security solutions.
Commitment to Exceptional Service and Quality
When you opt for Rawson Security for your electric bollard installations, you can rest assured of our dedication to delivering outstanding service and first-rate solutions. Our team is devoted to ensuring the security and protection of your premises. Contact us today to understand more about our electric bollard installations and find out how we can help enhance the security of your property.
Our Client Experiences
Successful Installation of Commercial Gates
On a warm summer day, our installation team arrived at a client's residence to set up the electric gates. Our courteous and professional approach left the client in awe as our team efficiently completed the installation. The splendid final result provided the client with the assurance of a secure home, and peace of mind.