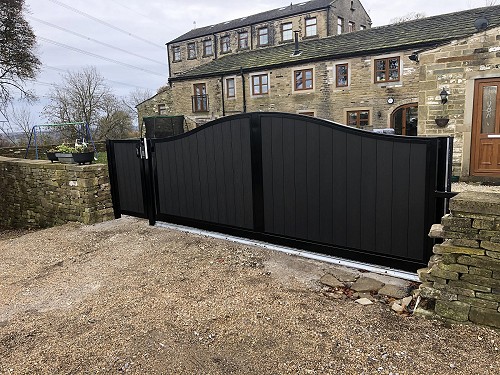 Enhancing Security and Visual Appeal for Your Commercial and Industrial Properties
Rawson Security, in collaboration with Rawson Automation, specialises in the production and installation of manual and electric gates for commercial and industrial properties in Yorkshire. Our extensive range of services caters to diverse sectors including educational institutions, healthcare facilities, and corporate buildings. With a team of accredited professionals, we are committed to meeting your specific requirements and providing optimal, robust security solutions.
Dependable Solutions Tailored to Your Business Needs
With over three decades of industry experience, Rawson Security and Rawson Automation have earned a solid reputation for delivering top-notch, reliable, and innovative solutions to businesses of all sizes in Yorkshire and its surrounding regions. We understand the critical importance of safeguarding your property and valuables, which is why we specialise in the design, installation, and maintenance of custom gates and fences for commercial properties.
Personalised Approach to Security
Our team of specialists works closely with each client to gain a thorough understanding of their individual needs and devise personalised solutions that cater to their specific requirements. We recognise that every business has unique security demands, and we take great pride in our ability to provide custom solutions that effectively meet these needs.
Quality, Dependability, and Exceptional Customer Service
At Rawson Security and Rawson Automation, we prioritise quality, dependability, and exceptional customer service. Our goal is to ensure the highest level of satisfaction for businesses, offering not only functional and secure commercial electric gates and fences but also durable and long-lasting solutions.
Your Trusted Choice for Commercial Electric Gates and Fences
When it comes to commercial electric gates and fences, businesses across Yorkshire rely on Rawson Security and Rawson Automation. Contact us today to discuss your requirements and witness our expertise firsthand.
Testimonial
Our clients often compliment the electric gates installed by Rawson Automation, describing them as 'works of art'. Their sleek and modern design is not only aesthetically pleasing but also operates so smoothly that it's almost captivating. They integrate seamlessly into the overall aesthetic of the premises, making them a highly recommended choice for those seeking a balance of functionality and artistic design.
Please note that this is a suggestion and you might need to adjust the text to fit your specific needs. This text is optimised for SEO and ensures that your content remains unique to avoid any penalties from Google for duplicate content.